MPS Client – Highlights
An industrial manufacturing company in Canada that employs 2,200 people in its primary location in Mississauga, Ontario. This manufacturing organization provides equipment and machinery to the construction and manufacturing industries.
Business Challenge – Highlights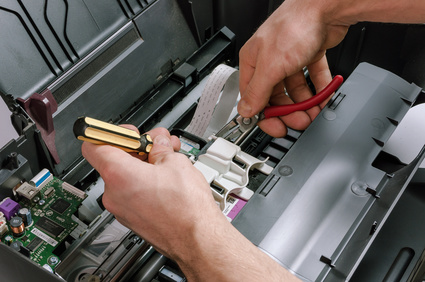 When SmartPrint was engaged to complete a current state study to transition the organization to a future state of an MPS implementation the printing fleet was in complete disarray. The fleet of equipment included 40 different device models made by 6 different device manufacturers and the environment was supported by 8 separate vendors. Each department was responsible for buying their own toner supplies and break fix services when required. Hence, the organization wasn't taking advantage of their overall buying power. There were over 200 devices, many of them with high operational costs and most departments
had too much hardware with too much horsepower for the users' requirements.
The IT department had no sense of total print volumes or costs, so a brief study was conducted. The study revealed that the colour print volume and costs were very high. Many departments were running a large number of wasted print jobs that were being left behind on the print devices and eventually ending up in the recycling bin. This was cause for concern for IT security given that confidential printing happens in open production and distribution areas where high traffic of external people pass through. Finally, given the number of print drivers required to support such a diverse group of printers, IT was often required to sort out print driver conflicts and user issues with printing; managing the print servers was the biggest head ache for IT infrastructure support.
MPS Solutions – Highlights
The current state assessment was performed in order to understand the complex workflow within the organization. Many of the departments had requirements for printing and integrated document workflows that differed from one department to another.
Through this detailed analysis the SmartPrint MPS consultant built a plan that:
Standardized the print fleet by using 5 different print devices instead of 40, from 2 manufacturers instead of 6 to cover off the needs for all departments.
Enabled a reduction from 212 devices down to 125 without impacting user convenience and efficiencies.
Simplified procurement through vendor consolidation i.e. by decreasing suppliers from 8 down to 1, resulting in the elimination of having to produce more than 50 purchase orders monthly to operate the print fleet with 1 quarterly bill that includes all equipment, software, and managed print services.
Implemented simple workflow and security software solutions to lock down the print environment and support user efficiency.
MPS Outcomes and Results
See how vendor consolidation and MPS positively impacted this organization's bottom line, print fleet and print production volumes.
Please complete the following form to get your copy of this Case Study.
Find out more about how SmartPrint's MPS Solutions can help your business and request your no obligation print environment assessment.